Pearl Class
Welcome to Pearl Class!
I'm Mr Schofield and I am Deputy Head Teacher. I teach in Year 4 alongside Mrs Schofield. We're called Pearl Class. This is my twelfth year at Dunsville Primary School and I love it! We work incredibly hard in class and have already enjoyed some lovely topics this year. Below is some useful information about what we have and are currently learning about in year 4. There are also some fantastic photographs recording some of the learning we have been up to so far this year. We'll continue to post pictures of the things we've been up to throughout the year. We're really lucky this year to be joined by Mrs Cording, one of our school's Higher Level Teaching Assistants and Mrs Waggott, who both help support our learning.
Take a look at our 'All about me' sheets to find out more about us!
What's happening in Year 4...
Parent Forecast:
English - Talk for Writing:

We love Talk for Writing in school and enjoy rehearsing text maps when learning the model text. Here are a couple of videos from texts we have learnt in class. Play the clips to see some of the actions we've had a go at. Sorry about Mr Schofield's voice - it does carry on the clips. He is rather loud at times!
Last term, we had a very exciting experience! Opal and Pearl class went to the wildlife area and found dragon eggs! We took them back to our classroom and looked after them until they hatched. Since we were experts at looking after dragons, we decided to write an information text all about them! Take a look at our images below to see the amazing dragon egg and Flame the dragon!
This term, Year 4 received a mysterious parcels wrapped in brown paper. We thought it might have been a suitcase. Maybe it was the suitcase of Perry Angel (the character that we have been reading about during story time). Perhaps it had a secret item locked inside, sent just for us to see! We were very curious about what it could be! During our English lessons, we wrote our own stories all about a character who had a mysterious item and used our ideas about the suitcase to help us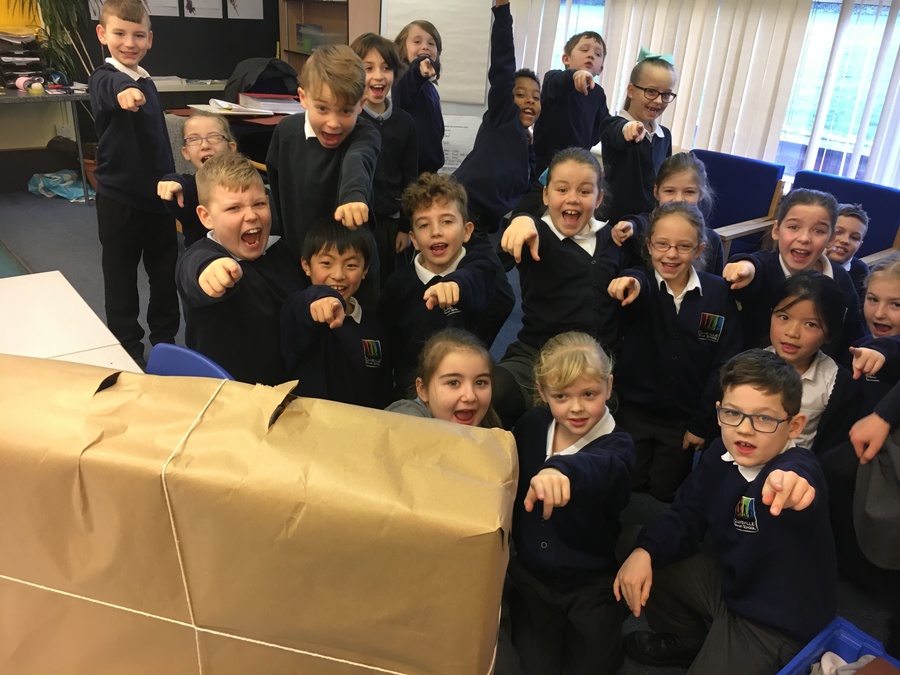 However, when we finally opened the suitcase, we discovered that it was full of bricks, straw and sticks. There were parts of a letter inside so we decided to investigate further... After reading all the parts, we decided that it must be a letter from the Three Little Pigs persuading Mr Wolf to leave their homes alone. We have learnt this letter off by heart using a text map with actions.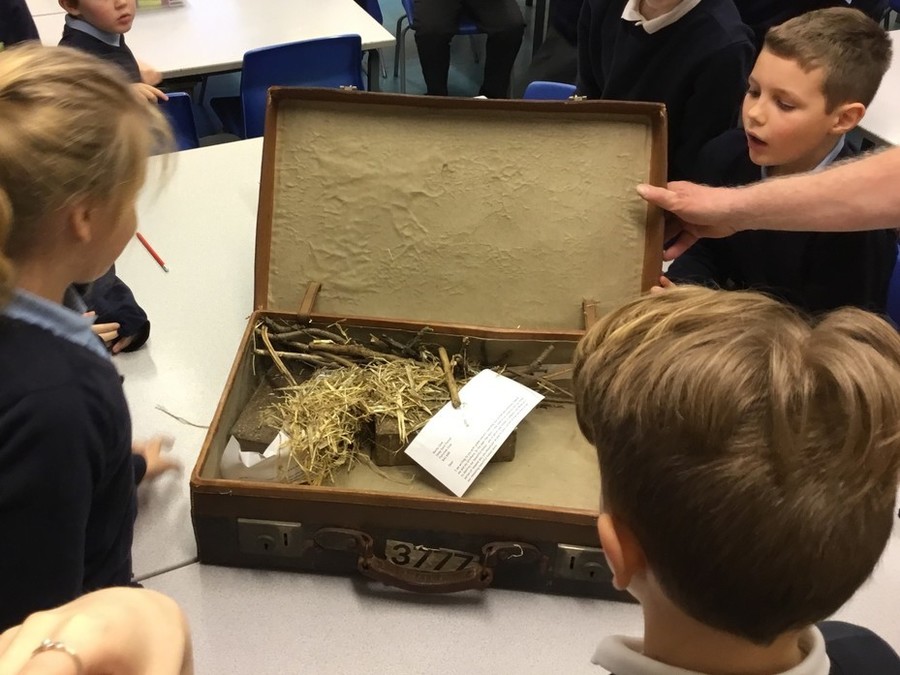 Science - Journey into the unknown
In science this term, the children have learnt about the journey of food through the digestive system. They learnt about the parts of the body involved in the journey and labelled these using fun games and interactive websites during lessons. We also watched a series of science clips including www.kidshealth.org and used a video from 'The Magic School Bus' children's TV show episode called 'Lunch'.

In the next session, we had a go at making a working model of the digestive system using house-hold items such as plastic sandwich bags, a pair of tights, food colouring, orange juice, water and food such as bread and crackers. Using the items, we had fun exploring the journey of food from how it gets chopped and cut up into smaller pieces by the teeth to mixing with saliva to make a paste that is easier to swallow down the oesophagus. This made it really clear about how food travels through our system and how the body extracts important elements to help support the body. This was shown when we filtered the food through the tights and it was clear what the remaining waste was! Yuck!

Finally, in the last session, the children got to write adventure stories based on what they had learnt in the unit. The children could choose if they shrank down to microscopic size and enter the body by accident or even be eaten by giants. Either way, we had lovely fun and it was amazing to see how creative the children were during this session. I was really impressed by how much the children knew by the end of the unit and this really showed when reading through their stories. We've included one below to give you a taste of what we've been up to.
Topic - Ancient Egyptians:
Our current topic is the Ancient Egyptians. We have been learning all about the Nile, pyramids, mummies and pharaohs. During our art lessons, we have created some beautiful sketches based on Ancient Egyptian images, which we are going to copy onto papyrus paper.
Trip to Hull New Theatre - Horrible Histories Awful Egyptians:
A few weeks ago, we visited Hull New Theatre, where we found out even more amazing things about the Ancient Egyptians. Below are some images from the visit for you to enjoy!