Welcome to the Amber class page! My name is Miss Wicks and I am the class teacher for Amber class. Amber is Nursery and it is also known as Foundation Stage One (FS1). Here at Dunsville, we work closely with Aquamarine class (Reception) during child-initiated time within our Foundation Unit.
Miss Thomas, Miss Fenton, Mrs Outram and Mrs Stewart also work with us across our foundation stage unit.
Our staff in our Foundation Unit help to support and enhance our learning opportunities as we learn through play.
Every day we are busy exploring and investigating the different areas in our classroom both inside and outside. We are outdoors in all weathers and we love to explore and create our own new environments to play in!
Here is our classroom layout this year...
Here are some pictures of the fun we have been having in our provision...
We have been learning all about Transport! Here is a little insight into the exciting new things that we learn everyday.
Literacy
In Literacy, we have been reading the 'Naughty Bus' by Jan and Jerry Oke. We have enjoyed learning our model text and using our storymap to retell the story using words and actions!
After learning the text, it was time to innovate. We made our own version called the 'Naughty Fire Engine', the Naughty Fire Engine travelled around our school doing all sorts of naughty things!
Here is our video... The Naughty Fire Engine.
Phonics
In Phonics, we have been having fun exploring syllables, to do this we clapped out the number of syllables we could hear in the word.
Maths
In Maths, we have been having a go at making our own patterns! We have enjoyed making repeating patterns using objects from around the classroom.
Science
In Science, we have been learning about the different parts of our body. For example, knees, knuckles, ankles, wrists and elbows. We have been looking at photographs of when we were babies and discussing how we have changed! Also, we have been looking at the 'seasons'. We began by going on a seasons walk in our school wildlife area.
Here we are looking out for evergreen and deciduous trees in our environment:
Geography
In Geography, we have been learning about where our school is and how we travel to school. We had a go at drawing our own maps and retelling how we get to school.
Also, in Geography we have been learning that to transport something means to move it from one place to another. People, goods such as food, toys, furniture, and animals are transported around the world.
We have looked at the North and South Pole and the types of transport that are used in cold places, like a dog sled or an Icebreaker ship.
History
In History, we have looked at transport from the past and compared it to the transport that we have today. We have learnt about significant people from the past like George Stephenson and Ernest Shackleton.
Art
In Art, we have been looking at the different colours that represent the seasons; Autumn, Winter, Spring and Summer. We took inspiration from Camille Pissarro and his painting of the four seasons by recreating our own.
Here is an example...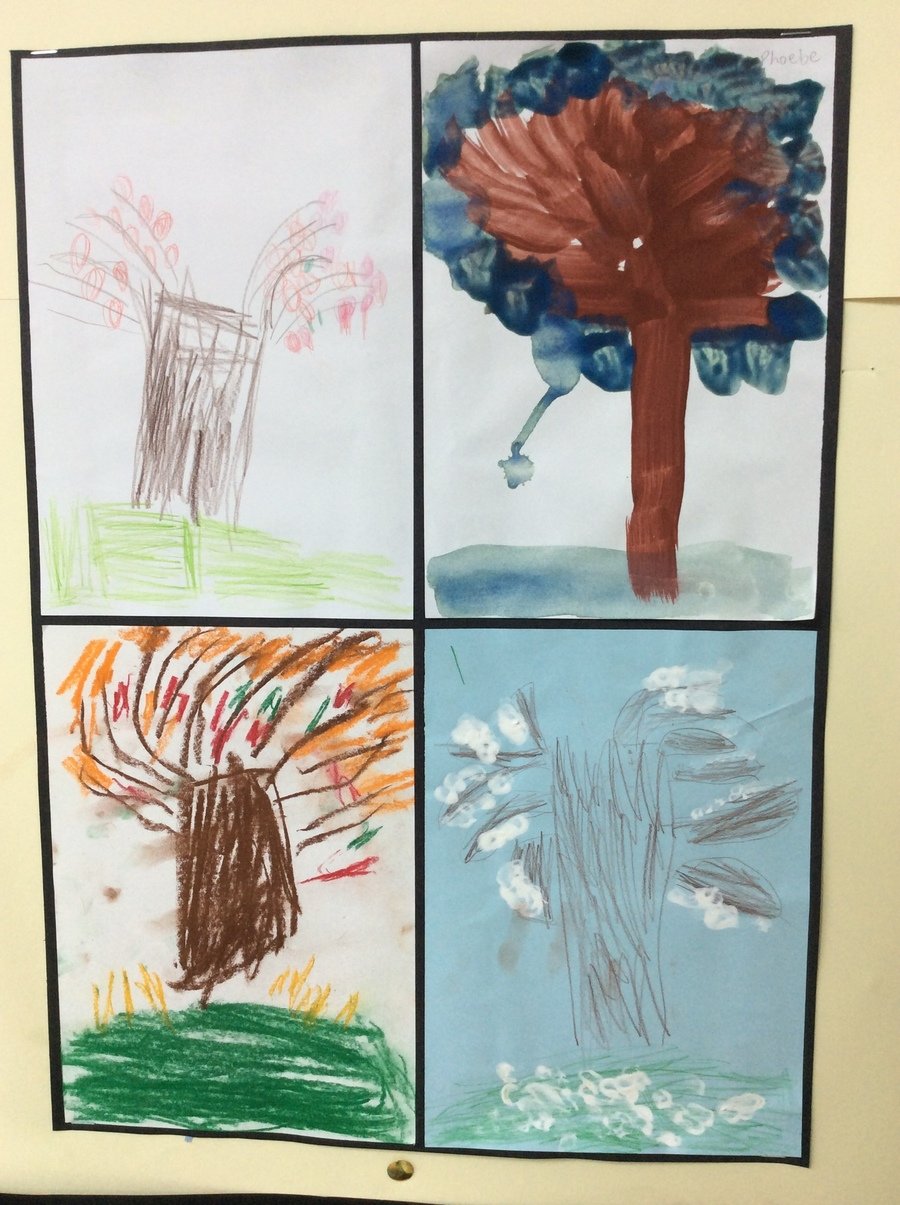 Thank you for visiting our class page!