Garnet Class
Hello. My name is Miss Gay and I am the class teacher for Garnet class !
Garnet class is a Year 2 class and we work alongside the children in Emerald class (Y1/2) and Diamond (Y1) class. We are very lucky to have Mrs Brown and Mrs Stewart working with us in our classroom this year.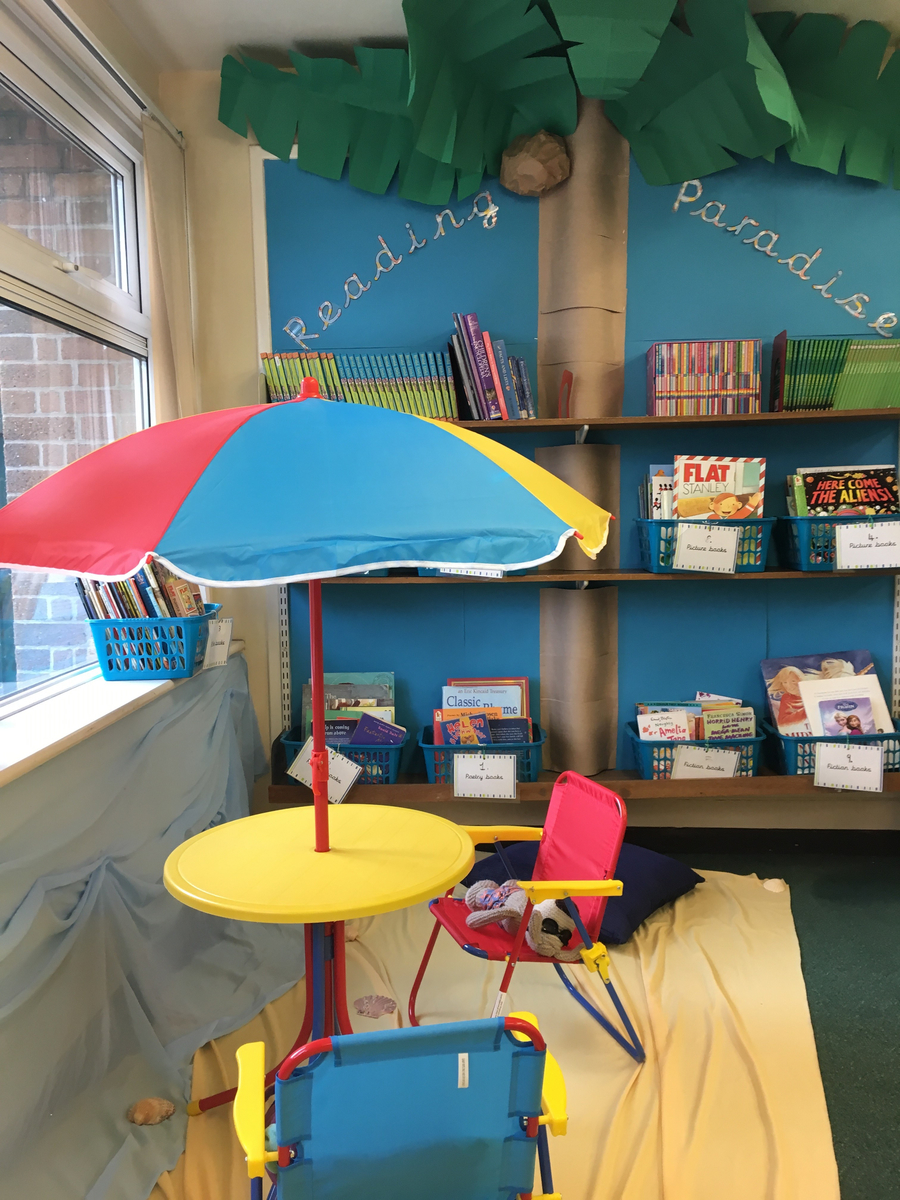 "The more that you read, the more things you will know. The more that you learn, the more places you'll go."
-Dr. Seuss
The videos below are examples of a child reading at the EXPECTED standard for the end of Year 2.
At the bottom of our page you will find links to past KS1 reading papers.
Here's what we have been getting up to ....
Healthy living week !
During healthy living week, Garnet class were visited by a Gorilla! He left footprints, fur and bananas all over the classroom! He wrote us a letter to apologise for the mess and he told us he was just looking for food! We decided to make him a healthy bowl of banana porridge with different toppings. Of course, we had to try it too! The next day, the porridge bowl was EMPTY! The gorilla had been and gobbled it all up and he LOVED it!! He wrote us a letter to tell us how thankful he was and he left us a special present. It was a big, gorilla teddy to remind us of him!
FIRE! FIRE! Great Fire of London topic (Autumn 2017)
Our topic in the Autumn term was 'The Great Fire of London'. We started our topic off with a fantastic workshop day in school. In art, we created pictures of the fire scene using pastel, paint and collage. We also learnt to sing the song 'London's Burning'. In the afternoon, we worked with Catherine who talked to us all about the events of the fire. She showed us many interesting artefacts from 1666 and we had to discuss them in groups. We thought about what the objects were for, made an observational drawing of them and labelled what material they were made from. After that, we got chance to write with ink and a quill just like Samuel Pepys did when he wrote about the fire.
London's burning, London's burning.
Fetch the engines, fetch the engines.
Fire fire, Fire Fire!
Pour on water, pour on water.
London's burning, London's burning.
Fetch the engines, fetch the engines.
Fire fire, Fire Fire!
Pour on water, pour on water.
Our nativity this year was 'Lights, Camel, Action'!
Our visit to the 'YORKSHIRE WILDLIFE PARK' to learn about animal habitats.
A BRILLIANT BOOKWEEK!
Our theme for book week this year was 'Dr Seuss'. Throughout the week we read many of his stories including: Green Eggs and Ham; The Cat in the Hat; The Lorax; The Grinch & Oh the Places You'll Go! We got up to allsorts of fun things too. In maths we followed directions to get to characters and books on a grid. In technology, we made puppets of the characters and in art, we designed a NEW hat for the cat! In English, we looked at the wacky characters which Dr.Suess created and we designed and described our own crazy, unique characters! On Friday, the whole school dressed up as their favourite book character! We all looked amazing and we would like to thank our adults for helping us to create such wonderful costumes!
Sherwood Forest!
Our topic for the Summer term is 'Forests'. We have started our topic off by visiting Sherwood Forest to engage in lots of exciting workshops. Our first workshop was called 'Sensory Adventures'. We started by creating a colour palette where we collected different natural items from around the forest with different colours and textures. Then, we made 'magic forest potions' by finding the smelliest and most disgusting items we could to mix up in our cauldron. We had a wizard with a forest wand to mix up our concoctions in each group. It got very messy! Finally, we had a tree hunt. In pairs, one person was blind folded and the other person directed them to a tree. The blind folded person had to use their hands to feel the tree. Then, we spun them around and walked them to another place in the forest to confuse them! Finally, the person who was blind folded had to go and find the tree which they had felt when blind folded. We all really enjoyed using our senses in the forest and back at school we wrote some excellent sense poems about the forest!
Some of the other workshops which we did on our visit were Orienteering and Shelter building! We had a great time working as teams in these activities. Finally, we managed to squeeze a quick walk into the last part of the day! We walked along the paths through the forest to the Major Oak. We were all very impressed by it's size and liked having our picture taken with it in the background!
We are all looking forward to learning more about forests this term and spending lots of time doing outdoor activities in our wildlife area.
Class Reminders
Please ensure your child brings their reading book and reading record into school every day and takes it home every day, so that they have lots of opportunities to read and enjoy books with adults. Please support your child by hearing them read at home on a regular basis or reading to your child also supports their skills.

The children will have the opportunity to earn prizes through reading at home. Every time your child reads at home and has an adult sign their blue reading record they will move along a step on the reading islands. When they reach the treasure chest they will earn a prize! The more reading… the more prizes!

The children will have PE on TUESDAYS AND THURSDAYS Please ensure your child has their PE kit in school at the beginning of each week and that all items of clothing are clearly labelled with their name

Please remind your children not to bring toys or special items into school. If your child wishes to bring a football or basketball for playtimes, then they should keep this in the teacher's stock cupboard. The children are responsible for asking to use these at playtime and remembering to take them home.

All children are encouraged to have a water bottle in school every day. These are kept in the classroom and enable your child to have regular drinks throughout the day. Please ensure that their bottle is named and is only filled with plain water (not flavoured or juice).

If you have any questions or concerns, please feel free to come into school to discuss these between 8.30-8.45am and from 3.30pm onwards. Please remember that we do not allow parents into the building after 8.45am.