Opal Class
Remote Learning Timetable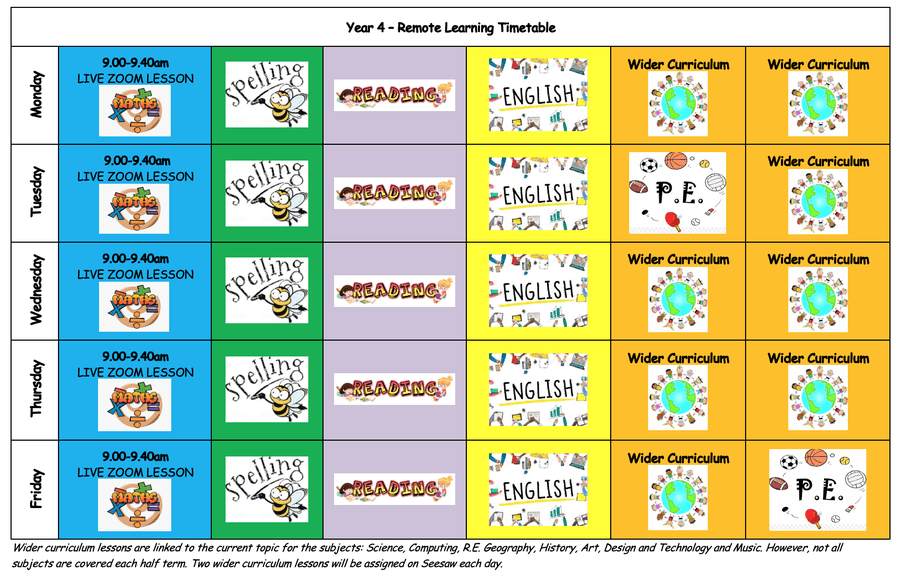 Note- Activities are the same for Opal and Pearl class.
Don't forget to access Spelling Shed and Times Tables Rock Stars regularly. Complete a sound check on TTRS weekly and practise the stage 3 and 4 spellings on spelling shed.
Monday 6th July
English
Today we are starting a new unit of work based on the text 'Unicorns Uncovered.' A unicorn is a mythological creature. Today we are going to think about different mythological creatures. Please read the information about the different creatures.
Once you have read the information design your own mythological creature. Draw a picture and describe your creature.
Reading
Please complete today's reading comprehension activity.
Maths
This week we are starting a new unit of work on statistics. We will be reading and interpreting a range of different charts and graphs.
Starter- For today's starter activity I would like you to login to Times Tables Rockstars and play 3 games on garage.
Main- Today we are going to be looking at pictograms. Can you remember what a pictogram is?
Watch the BBC Bitesize clip to remind yourself of pictograms.
https://www.bbc.co.uk/bitesize/clips/zg4d2hv
Wider Curriculum
Please choose wider curriculum activities from the selection provided.
Monday 6th July
| Name | |
| --- | --- |
| Home Learning wider curriculum 15.6.20.docx | Download |
| Maths starter 15.6.20.PNG | Download |
| Monday 15.6.20 main task.PNG | Download |
| t-sc-283c-the-water-cycle-differentiated-reading-comprehension-activity-lower-ability_ver_2.pdf | Download |
| The Rosetta Stone.pdf | Download |
| word waiter 2.PNG | Download |
| word waiter 3.PNG | Download |
| word waiter 4.PNG | Download |
| word waiter.png | Download |
Showing 1-9 of 9