Remote Learning Timetable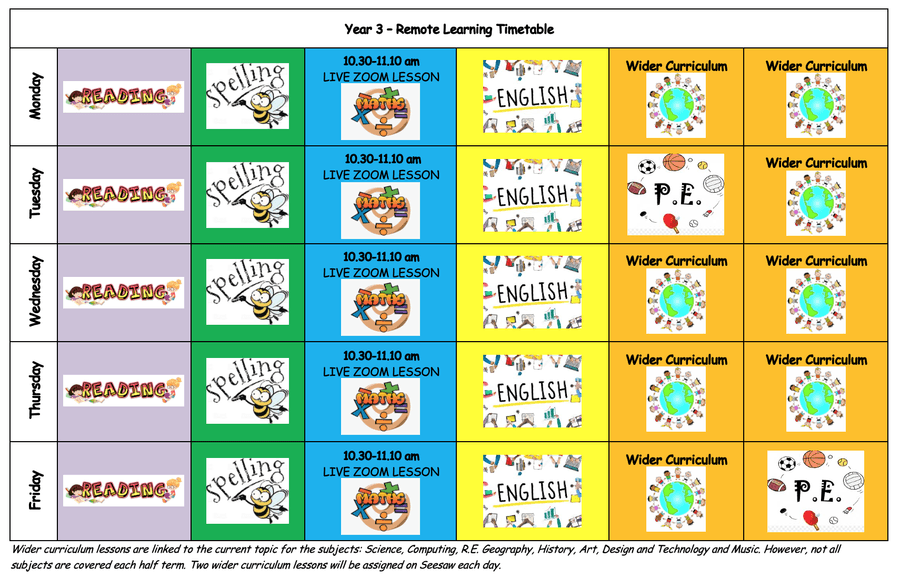 Tuesday 14th July 2020
Good morning, everybody!
Maths
Today, we are going to recap our understanding of data in tables.
• Starter: Time yourself for 5 minutes. How many of the mental maths questions can you complete?
• Main Activity: Watch the video I have created about reading tables and then complete the questions. Make sure to read the questions carefully, it might need more than 1 step.
English
Today we are going to start to write our information text about our unicorns we created yesterday.
We are going to write the opening sections of our unicorn reports.
The report begins with the introduction to explain what the unicorn is and the second paragraph is a section about the appearance of the unicorn.
Task: Please write the opening two paragraphs of your information text. You can use my example to help you.
Spelling
This week our spelling focus is on some revision words!
Our spelling words this week are; difficult, important, length, perhaps, position, pressure, question, strange, special and purpose.

Task 1: Put your spelling words in alphabetical order
Task 2: Use the spelling strategies of pyramid write and rainbow write to practise your spellings.
Then, log into spelling shed and click on 'SQUARES – Spellings'.
Have a go at playing at least 3 games.
Non-core
As this school year comes to an end, we would like you to reflect on all the amazing things that have happened this year. We have had a super year and you should all be extremely proud of how far you have all come!
It's great to look back and think of all the good things so, complete the template to explain all your favourite parts of Year 3.
Miss Shreeve & Miss Tomlinson.
Previous home learning, can be found here