Moonstone Class
Remote Learning Timetable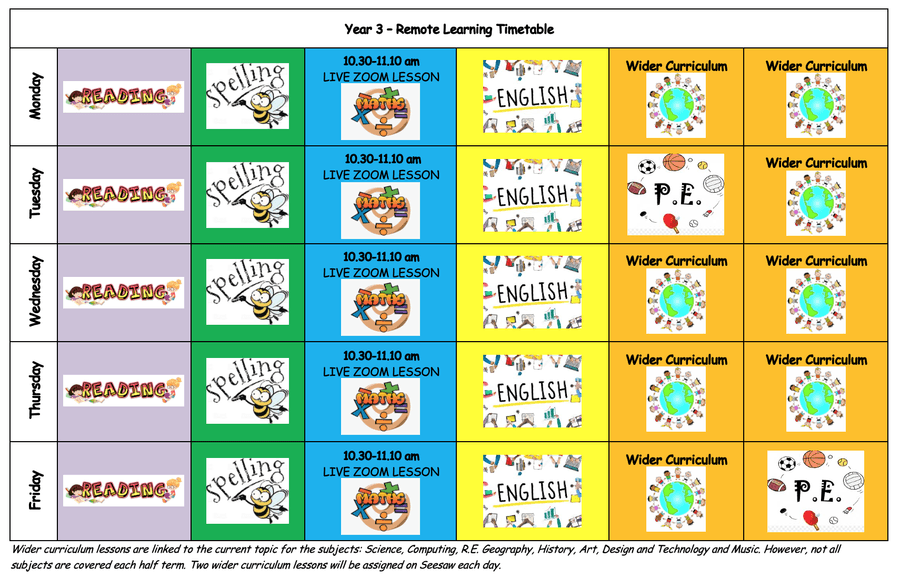 If you have any questions please feel free to email the Y3 team and we will be happy to help.
Y3@dunsville.doncaster.sch.uk
Wednesday 15th July 2020
Good morning, everybody! You are all continuing to impress me on Seesaw each day. Keep up the super work!
Maths:
Today, we are going to recap our understanding of data in tables.
• Starter: Log into Timestable Rockstars and complete 3 games of 'garage'.
• Main Activity: Complete the task all about reading data tables.
English:
Today we are going to write the next two paragraphs of our information reports. The sections we are writing today are on the unicorn's habitat and any special features the unicorn has. Think about what interesting vocabulary you could use in your own report.
Task- Write the next two paragraphs of your report on unicorns.
Spelling:
This week our spelling focus is on some revision words!
Our spelling words this week are; difficult, important, length, perhaps, position, pressure, question, strange, special and purpose.
Task 1: Fill in the missing gaps in the sentences with one of your spelling words.
Task 2: Use the spelling strategies of pyramid write and rainbow write to practise your spellings.
Then, log into spelling shed and click on 'SQUARES – Spellings'. Have a go at playing at least 3 games.
Non-core:
It has been a very strange time recently. Hopefully nothing like this will happen again, but it is important to remember it. We thought it would be a nice idea to gather memories of things you have done during lockdown (pictures, objects, writing etc) to keep in a time capsule. Can you design your very own time capsule and include at least 3 memories in it? Be as creative as you like with your design for your time capsule, make it your very own and unique to you. Also, please make sure label what memories are going inside.