Hello and welcome to Onyx class!
Scroll down to take a look at some of the things we have been getting up to!
We have settled into our great new classroom! It is a wonderful space with lots of different learning experiences for
us to enjoy. We can go deep into the Stone Age with our role play area, where we can hunt and cook food by the fire,
create realistic cave paintings and dig like Archaeologists to find evidence of life from the past! Watch out for the
mysterious shaped items, they could be teeth!!
In the corner of our room is our new reading area which is a comfy, calm place to enjoy a good book! Take a look at
some of our suggested reads, which you might enjoy.
Experiment with forces and magnets at our science table! Can you make the cars move without touching them?
Over this past term we have explored lots of different text types in English. We have enjoyed reading lots of poetry, particularly focusing on sound poems such as 'The Sound Collector'. After learning the poem by heart, we created our own sound poem based on the sounds of school!
We have had some very exciting things happen in Onyx class! In a woodland, Miss Mawson found a mysterious letter from someone, which appeared to be written in berries. We enjoyed reading it carefully, looking for clues about who it could have been from and we made inferences about where we thought the boy could be! The letter was written by a boy who walked through a shaded woodland, fell into a hole and awoke in the Stone Age! We enjoyed learning more about this story 'The Stone Age Boy' and others, such as 'The Lion the Witch and the Wardrobe'. We used these stories to help us write our own adventure stories. As part of this unit, we tried really hard with our description and spent a lot of time looking at how we can describe a setting using expanded noun phrases and prepositions.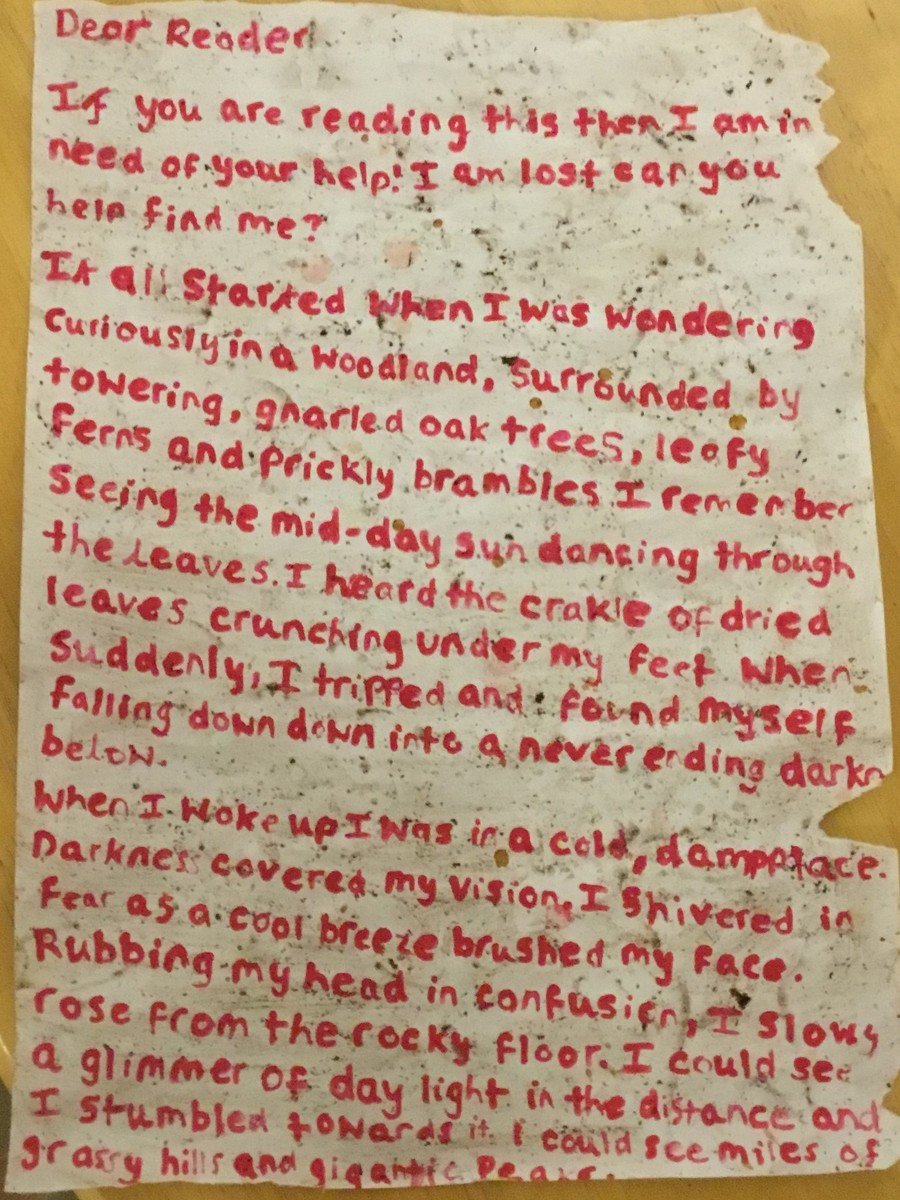 Our next unit was instruction texts. This started with a surprise visit from a dirty woolly mammoth! We arrived at school to find humongous, muddy footprints splattered around our classroom and bits of dirt and leaves trailed in from outside. Later, we looked at the images from the school's cctv camera and found evidence of the woolly mammoth exploring the whole school, making a mess as he went! Take a look at the images below and see what you think!
Just in case the mammoth came back, we decided to learn an instruction text about how to clean them. We learnt that it was a rather tricky task as woolly mammoths are notorious for their thick wool like fur! Afterwards, we used our learning to write our own set of instructions about how to catch an animal. We made sure that our instructions were structured clearly with a heading, paragraphs and bullet points and included clear details through adverbs and expanded noun phrases.
In maths, we have been focusing on our understanding of number. We have been using a variety of different resources to support us in our learning and have explored different methods for mental and written calculations. In Onyx class, we believe that mistakes are important and are extremely useful to help us learn! We are constantly striving to challenge ourselves through reasoning and problem solving activities. We have also been working extremely hard on our times tables, practicing at home on Times Table Rock Stars and regular learning in class to help us move up our times table chart. We are very proud to have won the times table 'Battle of the bands' competition last half term and we are working very hard to succeed again this term!
Take a look at the images below to see how we have been getting on in maths!
Our most recent trip was a visit to the Yorkshire Museum in York. We took part in a Stone Age workshop, where we had the opportunity to do cave painting, coin making, weaving, pot making and so much more. It was great to have a first-hand experience of what life would have been like in the Stone Age times. We also had the opportunity to hold real Stone Age materials, such as flint and copper, but we had to be very careful with them! In the afternoon, we enjoyed exploring the museum and were amazed by the new dinosaur exhibit which had recently opened. We all had a great time on the virtual reality headset where we could feed a dinosaur!